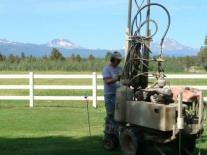 Septic System repair and Drainfield repair without excavation, or installing a new Drainfield, leach line, or septic system.

Septic System Replacement Costs $6,000 (on average in Oregon) .Our Septic Restoration, and Drainfield Repair Service Save You Thousands of Dollars.

We Offer Up To a 5 Year Warranty, Excavators DO NOT Offer Any Guarantee.

We have the technology and experience to repair septic systems typically in one day without digging or replacing the drainfield! This is NOT A TEMPORARY FIX! We are a long-term solution, with a 2-5 year warranty to your failing drainfield/septic system!  thousands of dollars through our patented soil aeration system. We also offer rooter and jetting services, and our popular line of waste degrading bacteria for septic tanks. Call today for a free estimate! 541-388-4546

Call for your free estimate and inspection!

(541) 388-4546

CCB 88891


One-Day Septic System Renewal

Drainfield Restoration  Services, Inc.

The Trademark "Drainfield Restoration" is the property of Drainfield Restoration Services, inc. Copyright 2013.

Complete Septic System Restoration